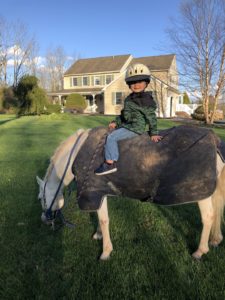 Black Horse Stables offers summer kids' camp as well as holiday camps several times per year. Activities include horse related crafts, games, riding lessons, trail rides, and more!
WE ARE PLEASED TO ANNOUNCE OUR SUMMER EQUESTRIAN EDUCATION PROGRAM. COME JOIN US FOR AN EXCITING AND EDUCATIONAL WEEK OF RIDING, FRIENDSHIP AND FUN.
HERE ARE SOME OF THE ACTIVITIES YOU CAN EXPECT…
Daily riding – up to two hours of riding and horse handling (one hour riding instruction and one for games, trail rides and horse handling education) in our indoor arena, or adjacent outdoor arena. FRIDAY FUN DAY may an optional trail ride thru Evansburg State Park (weather permitting) for an additional fee or a In-House Horse Show!
Learn to tack up, bathe, groom, braid, wrap legs, clip and prepare for horse shows
Creative equine related crafts
Learn to properly perform barn chores, plus games like horseless horse show, navigating poles, barrels and obstacles, horseback red light/green light.